The only

Tax Planning

software that actually PLANS
Tru Tax Planner gives you the tools you need to analyze complex tax planning scenarios, run projections, measure the results of your tax reduction ideas, and develop the optimal combination of strategies to reduce tax.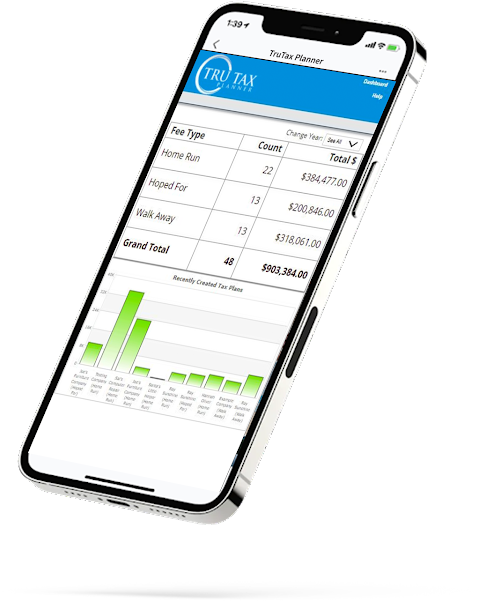 Accurately estimate tax liabilities including federal income tax, AMT, and captial gains and measure the value of your tax reduction ideas.
AICTP teaches a proprietary process to evaluate every client's tax situation individually, using our software to help you determine the right combination of strategies for the biggest savings opportunities. While our unique software can act as a helpful tool in your tax planning project, the most important part of the process is the expert education you rely on to guide your actions. This can be uncomfortable for some tax professionals who want to offer tax planning, yet lack the background or education that this expert niche demands.
There is no DIY tax planning software solution that can reliably take the place of education and experience. You see, the IRS doesn't accept "the software suggested using this amount" as a valid reason when they grill you about which law you've relied on for your position.
Read more: Tax Planning Software – Artificial Intelligence Or Skill Saw? And: Why Tax Planners Need a Written Tax Plan
As part of our program, Tru Tax Planner offers all you need to find the best combination of tax reducting strategies:
Build side-by-side models to map out the optimal combination of tax reduction tactics.
Then calculate the total tax savings. 

Simply follow our step-by-step process:

Upload a pdf of the taxpayer's most recent return
Answer a few easy questions about their current situation and where they want to go

Review the tax planning roadmap suggesting ways to save money
Use these ideas to estimate savings
Relay estimated tax savings to prospective tax planning client and sell premium fee engagement
Collect payment ($2,500-$1 million per plan)
Run projections, illustrations, and analysis in our side by side comparison tool

Select model with greatest tax savings
Run projections, illustrations, and analysis in our side by side comparison tool
Watch your tax planning profits soar!
Prove Return on Investment (ROI) to your clients with our Fees to Savings Dashboard
Easily calculate total tax savings to the penny with up-to-date calculations and tax law
Track new planning revenues as a Key Performance Indicator for your planning practice
Import most recent tax return by uploading a pdf
This value packed planning tool includes:
Analyze Complex Tax Plans
Average
Tax Savings > $35k/year
Integrates with tax prep family of software
Calculates actual tax savings based on tax calculations not average tax rates
Includes documentation and
legal citations for over 130 strategies
Customized
reporting for your client's specifics
Tax law updates within 30 days
Available Only With AICTP Membership