Isn't it time to get paid what you're worth?
The American Institute of Certified Tax Planners teaches tax professionals and attorneys how to use
proven tax planning strategies to reduce their client's taxes to a 10% rate or less.
Say goodbye to the tax prep grind and commodity pricing by creating
more value for your clients.
Stop trading hours for dollars!
Many tax professionals are trapped into working more than
70 hours a week during tax season and are underutilized the
rest of the year. Because tax preparation is treated like a
commodity, it's hard to charge premium prices.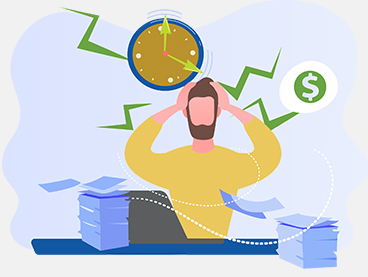 The ability to do tax planning
makes you more valuable
to your clients.
The typical tax professional is reactive, tracking client
expenditures to help them claim the tax deductions they
already qualify for. A tax planner is proactive, strategically
working with his or her clients so they can be eligible for more
of the 400 tax deductions allowed by the U.S. tax code. A tax
planner can save his or her clients thousands of dollars, and
clients will pay more to learn about these strategies!
The average tax fees per client may increase
to $15,000 or more each year.

Becoming a Certified Tax Planner sets you apart.
The American Institute of Certified Tax Planners is the only program providing hands-on training in selling, delivering, and implementing the kind of high-level, proactive tax planning strategies that are worth thousands to clients. Now you can bring the same level of sophisticated savings achieved by Fortune 500 companies to YOUR clients. You'll also be joining an elite group of professionals––not everyone who applies is qualified to receive CTP certification.
Becoming a Certified Tax Planner
is as easy as 1-2-3!

Apply to see if you are qualified and learn the requirements*
Complete your minimum learning requirements to begin your apprenticeship as a Certified Tax Coach by attending our Academy and completing your online training.
Once you meet the learning and experience requirements over 12 months, you can become a Certified Tax Planner!
*Available to licensed CPAs, EAs and Tax Attorneys.
Thank you!! There's no way I could do this on my own. I'm thankful that folks like you have the business you have to help people like me make more money and more important help my clients avoid overpaying taxes. You make me look good in the eyes of my clients. Again thank you.
Justin Irving
For over 20 years I have looked for something that distinguishes me apart from others in the tax field. CTC is the answer. CTC is the future of those in the tax industry that are serious about helping their clients.
Joe Cumley
This 3 day seminar was arguably the best education and training event that I've attended in my more than 20 year career. The system is well thought out from sales to analysis to delivery to retention, and it delivered real value.
Scott Floersheim
CPA, CFP, CTC
Over the next 6 months I expect to see over $50,000 in new planning fees as a result of becoming a Certified Tax Coach. If you are a tax professional who does not attend, you are leaving money on the table!
Bill Cummings
CTC
Woot woot! Life-changing paradigm shift. AICTP is such an incredible resource for tax pros looking to shift from a reactive, compliance-focused practice to a proactive, collaborative tax planning practice. I've already started making changes. Powerful stuff.
Ian McBein
CTC
Whether you have an established practice or are just starting going out on your own, this program provides the paradigm shift to leverage tax planning to make your ROI shoot up like a hockey stick.
Greg Seay
CTC
My graduation was 3 years ago and it changed my life!! 🙏🙏🙏 Forever thankful to Dominique Molina and AICTP for showing me another way.
Ilknur Grubbs
CTC
How much are your
competitors charging?
Find out how you compare with what others are making, and how you can work less and earn more!
Receive the training and
support to take your business
to the next level.
Your clients will enjoy incredible tax savings while you grow your business. Everyone wins!
Certified Tax Coach training will transform your business.
You will learn how to:
Meet our CTCs of the Year
Apply Now To Watch Our FREE Webinar Breakthrough Income Barriers
6 Specific Strategies That Improve Your Bottom Line Over 100%